PParis 2010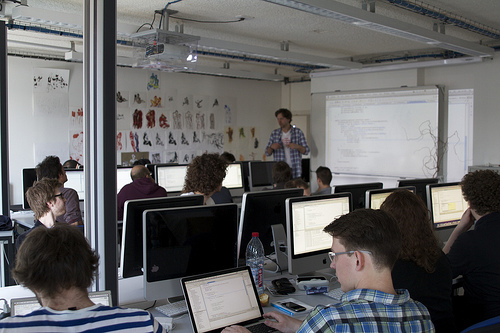 Processing Paris Avril 23/24 2010.
La première édition de Processing Paris a eu lieu les 23/24 avril à La Fonderie de L'Image à Paris 2010. Nous avons organisé 2 workshops :
– Initiation avec Julien Gachadoat
– Masterclass avec Karsten Schmidt
Pour plus de renseignements sur le contenu du Masterclass vous pouvez consulter le site de Karsten Schmidt. Il y a également des super sketches qui ont été réalisés par les participants du workshop Initiation sur Open Processing. Julien Gachadoat nous a documenté son workshop avec quelques photos prises en cachette.
/////////////
The first edition of Processing Paris took place 23/24 april 2010 at La Fonderie de L'Image in Paris.
We organised 2 workshops :
– Beginners with Julien Gachadoat.
– Masterclass with Karsten Schmidt.
For further information on the contents of Karsten Schmidt's Masterclass head over to his toxiclibs site for a run down on the original project. Some results from the beginners class can be seen at Open Processing.You can also see some photos of the event taken by Julien Gachadoat himself whilst diligently passing on his knowledge.